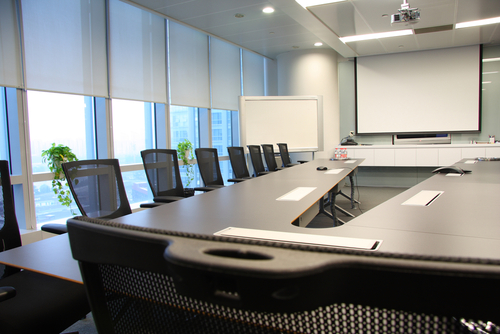 Conference rooms are in the midst of a Renaissance. Boring designs that tap the same outdated style techniques are quickly losing ground to more innovative, welcoming spaces. So how can you turn your conference room into a space where people feel creative and collaborative?
Take a look at a few layout and design ideas that can transform your conference room from boring to bold.
U-Shape Setup
This layout makes it possible for meeting attendees to see each other easily. Conversations are better heard and eye contact is made when tables are placed in a "U" shape. If there is an audio-visual component to the meeting, this setup works well because everyone can see each other and the AV presentation at the same time. A U-shape setup won't work well for large groups but is perfect for intimate meetings.
Theater Setup
Get rid of the outdated conference table altogether by setting up individual seats facing a speaker's area. You can use a smaller table, a podium, or just open space for the speaker. This is especially effective if the meeting attendees are serving in a listening, or audience, role. A theater setup doesn't work as well for a meeting where attendees will need to talk and collaborate.
Classroom Setup
When conference attendees need space to write or set up a laptop, several rows of tables work well in conference rooms. The interactive element of the meeting goes down a bit so this setup is not recommended for meetings where attendees must act as active participants. For listening and note-taking, though, a classroom setup facilitates productivity and keeps the attention on the speaker.
Banquet-Style Setup
This layout most resembles what people are accustomed to seeing in conference rooms. Laid out in a roundtable manner, banquet-style conference rooms usually feature one long table surrounded by chairs. The attendees can all see each other and can communicate with ease, making it ideal for small group meetings. There usually isn't enough space at these tables for multiple computers and devices, though, so this layout is reserved for times when discussion is the main aim of the meeting.
Other Conference Room Considerations
The layout of the room is just one aspect of a functional conference room. There are other things to consider as well, like:
Lighting. A bright room gives an automatic feeling of positivity and collaboration. If there is no natural lighting, consider light-colored walls and plenty of drop ceiling light fixtures.
Acoustics. Can your meeting attendees hear you? Tile ceilings paired with carpeted floors help stabilize sound, making it easier for the ear to comprehend what is said. If the room is especially large, a lanyard microphone or other sound enhancement is necessary.
Comfortable seats. You don't want meeting attendees to fall asleep, but you don't want them so uncomfortable that they're looking at the clock just waiting for the meeting to end. Remember that your meetings are an investment of company time and resources; maximize that investment by purchasing leather seats or other ergonomic chairs to keep meeting attendees comfortable and focused on the topic at hand.
Technology. Make sure your conference room technology features are both up to date and in working order before every meeting. Nothing will lose the interest of attendees more quickly than a slide presentation that isn't working, or audio that is barely audible. People expect technology to work, so make sure your conference room tech lives up to that expectation.
A conference room needs to accomplish a lot of things at once: collaboration, comfort, and functionality are the most vital. Rearrange your current conference room for an optimal gathering space, or look for ways to upgrade the room to better fit your company's meeting needs.