You and your employees don't need a lot of office space to accomplish everything on your work to-do lists. It's how you use the space, not how much of it you have, that makes a difference in your productivity level while you're earning a living. It's not just about getting things done, though. People spend around 10 hours per day sitting, and work is a large chunk of that, so feeling like there is enough space is vital to a healthy, happy office environment.
If you're spatially-challenged when it comes to your office area, consider these suggestions for making it seem a bit bigger.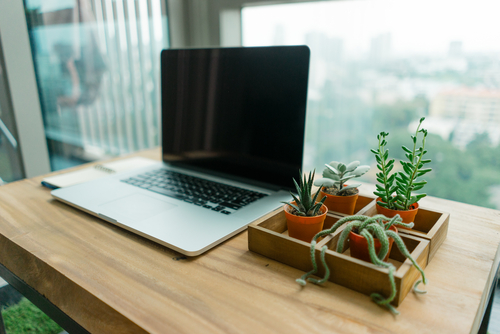 Closer Desk Proximity
The surface area of a desk, as well as the drawers and other organizational elements, are the same whether a desk is surrounded by 10 feet of space on each side, or butted up against another desk. Save floor space by considering these desk arrangements.
Paired Desks. Place two desks facing each other and save room by eliminating the island of space surrounding a single desk setup.
Blocked Desks. Take the paired desk idea and double it. The desk quadrant also works with more than four desks, as long as everyone can get to their chairs.
Assembly Line Desks. Instead of a block of desks, make one long row – then repeat it throughout the office space.
Wheels
A workspace on wheels offers incredible flexibility. It can be moved when more open space is needed, or when a change of scenery is desired. It sounds simple but having wheels on the bottom of your desk and office chairs makes it easy to rearrange at a moment's notice.
Exercise Desks
You only have to look as far as Pinterest to find some creative ways to incorporate fitness into the work routine. From treadmill desks to stationary bikes instead of chairs, there are endless creative ways to combine fitness with working – and have both functions happen in the same space.
Vertical Shelves
If you or your employees sit at a desk that's close to a wall, think of ways to add surface area by going up instead of out. Simple shelves above the desk can house everything from books to photo frames and keep the desk uncluttered and spacious.
Monitor Arms
Attach desk monitors to arms that allow movement. Employees can lift the monitors up when they aren't using them, and set them at a different angle when people are at their desk. It's surprising how much space is available when a computer monitor is simply lifted out of the way.
Mirror and Light Placement
There's a reason lighting and mirrors play such an important role in interior design: their placement can either expand or dwarf a space. In your company's office space, make the most of natural lighting by facing desks toward a window or setting them up under a skylight. If your only option is a basement-style office, purchase light therapy lamps that mimic natural lighting. Place large mirrors around the office to reflect that healthy glow.
Picking just a few smart office elements can greatly expand your perception of space and lend to heightened happiness and productivity within the office. Maximize that space with smart organization, creative accessories, and strong spatial design elements.